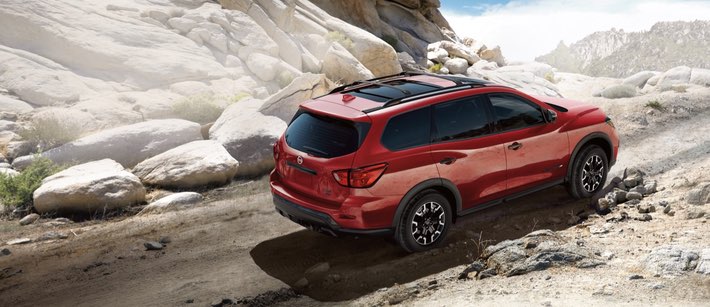 From soccer moms to salespeople, 3-row SUVs fill the needs of many types of car buyers–and there is no shortage of options. The Nissan Pathfinder, a popular choice, has received fresh competition over the last couple of years from newcomers like the Kia Telluride (introduced in 2019) and the Hyundai Palisade (introduced in 2018.)
Let's see how the popular Pathfinder, which has been a top pick for 35 years, stacks up against these new 3-row SUVs.
Nissan Pathfinder vs. Kia Telluride
Telluride Starting Price - $31,890
Pathfinder Starting Price - $31,680
In addition to a nearly identical starting price, you'll find many other similarities when you compare the Pathfinder vs. Telluride. Fuel economy, horsepower, drivetrain, wheel sizes, and fuel tank capacities are either identical or close to identical, but let's take a look at a few differences between these 3-row SUVs.
· Leg Room and Headroom: You'll enjoy more headroom and legroom in the front seat of the Pathfinder.
· Towing Capacity: The Pathfinder's towing capacity bests the Telluride by 1,000 pounds.
· Standard Color Options: The Telluride offers only two standard colors to the Pathfinder's five.
· Comfort Features: Some comfort features that come standard on the Pathfinder aren't available on the Telluride including climate control and multi-zone AC.
Nissan Pathfinder vs. Hyundai Palisade
Palisade Starting Price - $31,975
Pathfinder Starting Price - $31,680
As is the case with the Telluride, when you compare Pathfinder vs. Palisade, you'll find many features to be very similar. This includes identical turning diameters, steering type, tire size, and similar torque and horsepower. So what are the differences between these 3-row SUVs?
· Fuel Economy: The Pathfinder offers slightly better fuel economy as well as a larger tank capacity.
· Towing Capacity: It's no contest when it comes to towing. The Palisade can only handle a max of 1,650 pounds vs. the Pathfinder's 6,000 pounds.
· Infotainment Options: HD radio and satellite radio are standard on the Pathfinder and unavailable on the Palisade.
· Comfort Features: Keyless start and climate control are examples of standard comfort features on the Pathfinder that you can't get on the Palisade.
Why The Nissan Pathfinder Is Still The Best 3-Row SUV
While all 3 of these SUVs are solid options for anyone in the market for 3-row SUVs, the Nissan Pathfinder manages to set itself apart in features and value—and that might explain why the popular Nissan Pathfinder outsold both the Telluride and Palisade in 2019.
The Nissan Pathfinder has been a top option since 1985, and there is no sign of its popularity slowing down. Stop by Giles Nissan Opelousas today to see our large selection of new and quality pre-owned Pathfinders and to see for yourself why it checks every box for style, performance, and safety.